An Evening with Groucho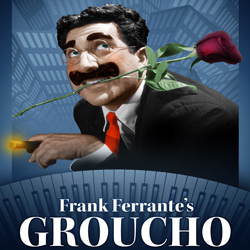 Teatro ZinZanni Chicago requires all patrons to be fully vaccinated with one of the W.H.O. approved COVID vaccines. All patrons 12 years or older will need to show proof of vaccination and an ID at check-in at the Spiegeltent ZaZou. For patrons under 12 or those who are not/cannot be vaccinated, a negative Covid test is required.
Please see our Covid Safety page for additional details.
OCTOBER 26TH ONLY!
DIRECTED BY DREYA WEBER
"The Caesar" does Groucho!
Award-winning actor/director Frank Ferrante, currently playing The Caesar in Teatro ZinZanni, recreates his PBS, New York and London acclaimed stage portrayal of legendary comedian Groucho Marx in this fast paced 90 minutes of hilarity. The two-act comedy consists of wild improvisation and the best Groucho one-liners, stories and songs including "Hooray for Captain Spalding" and "Lydia, the Tattooed Lady." The audience literally becomes part of the show as Ferrante ad-libs his way throughout the performance in grand Groucho style. Accompanied by his onstage pianist, Ferrante portrays the young Groucho of stage and film and reacquaints us with the genius of "America's most gifted funnyman." A show perfect for all ages!
Please note: An Evening with Groucho is a one-night only special event. It is not a version of the Teatro ZinZanni evening show. Food and beverages are not included in the price, but the bar will be open prior to the performance.