Love, Chaos, and Dinner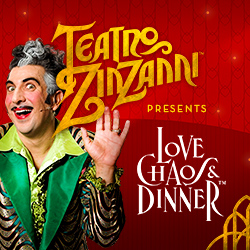 Enter a realm where reality and dreams converge; an experience unlike any other! Teatro ZinZanni is a whirlwind of international cirque, comedy and cabaret served with a multi-course feast. Described as the "Kit Kat Klub on acid", the fast-paced action unfolds around, above and alongside guests as world-class acrobats, musicians, divas, illusionists, madmen, and aerialists fill our intimate Spiegeltent ZaZou, a unique jewel box mirror tent. Teatro ZinZanni's signature blend of Love, Chaos & Dinner has played to sold out audiences in Seattle and San Francisco. Don't miss the show The New York Times calls, "A feast for the senses" and the "city's hottest ticket!".

What to Expect:

From the moment you step through the doors into our spiegeltent you will be transported into another world where performers break free from the confines of the stage and the action unfolds all around you. No two performances are alike as the wall between artist and audience disappears. A few guests may be invited to participate, many will enjoy table-side interaction with artists, and everyone will share in being a part of a one-of-a-kind celebratory event creating a memorable evening for all. If you have never been to Teatro ZinZanni and want to learn more, please contact our box office at 1-877-424-2421.

On Sale Dates: July 18th – September 29th, 2019
Wednesday through Sunday evenings at 7:00pm
Saturday and Sunday matinees at 12:00pm

Pricing varies depending on seating section, day of week, and capacity already sold for the performance.

Your ticket price includes the 3-hour show experience and accompanying 4-course meal. On the night of the show, you will be responsible for an $8 per person base meal gratuity for the service of the meal as well as any food upgrades and/or drinks you decide to purchase.

You may make your reservations online at any time, 24 hours a day.

Valid forms of payment for online reservations are Visa, Mastercard, Discover, and American Express.


All ticket sales are final. No refunds will be issued.


Seating is pre-assigned by the maitre d' prior to your arrival at the spiegeltent. Get to know other Teatro ZinZanni guests, as you may be sharing your table with at least one other party.

*Wheelchair and other accessibility requests can be accommodated. Please call our box office prior to your show night to ensure your needs can be met.